Merchandise Available at K9 Aquatics

Walkin' Wheels Wheelchair for Handicapped Pets

A wheelchair can help your dog to run and play again, get the exercise he (or she) needs, and live a happy, healthy life. Designed to help animals with hip and leg problems including degenerative myelopathy (DM), hip dysplasia, arthritis, paralysis, slipped disc, soreness, spinal and neurological problems, surgical recovery, and more.
Starts at $399.00.

Will fit any size dog 20 lbs and up. Custom wheelchairs are available for smaller dogs. Some active and very large dogs, over 150 lbs, need a "Reinforced Walkin' Wheels" custom wheelchair.

Standard wheelchairs are usually available immediately. Custom wheelchairs can be ordered with an overnight shipping option.

Adjusts easily if your dog grows or changes.

Easy to re-sell since the wheelchair can be adjusted and used on any other dog.

No precise measurements needed.

Folds flat for easy transport.
K9 Aquatics is now a Distributor of the Walkin' Wheels Adjustable Wheelchair so your dog can be fit and go home with a new wheelchair today! If you are located near our Sammamish, WA location, please contact us to schedule an appointment. If you are not located within driving distance, you can order a Walkin' Wheels Wheelchair to be shipped to you. Just click on the link below:

Walkin' Lift Rear Harness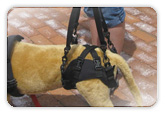 This harness, originally designed for use with the Walkin' Wheels dog wheelchair, can be used alone, without a wheelchair, to help your dog walk. In the future, should you need a dog wheelchair, you'll be able to use this same harness (only with the Walkin' Wheels dog wheelchair). Just un-clip the handles and clip into the wheelchair.  
Comfortable neoprene is soft and pliable. Because the edges will never fray, it can be trimmed to avoid any hot spots and allow the dog to pee and poop normally. The harness is washable.
| | | |
| --- | --- | --- |
| Size | Girth of leg | Price |
| Small | Less than 9" | $49.99 |
| Medium | 9" to 12" | $49.99 |
|  Med/Large |  12" to 15" |  $59.99 |
|  Large | 15" to 17"  | $59.99  |
|  X-Large | 18" to 22"  |  $69.99 |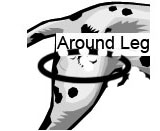 Recommended by veterinary surgeons as the most effective walking aid on the market, Walkabout Harnesses are commonly used on animals with arthritis, hip dysplasia, spinal trauma and general fatigue. Plus they help prevent back injury to pet owners from lifting pets improperly. The Walkabout Harness is designed to fit both male and female pets. Please discuss the use of this product with your veterinarian. If you are unsure of how to use the harness properly, their assistance is strongly recommended for the safety and comfort of your pet. The design and construction of the Walkabout harness provides the balance and support necessary for your pet to lead a happier, healthier, cleaner life.
Use of the Walkabout can also help minimize the back strain that often results from lifting and carrying heavy animals.
| | | | |
| --- | --- | --- | --- |
| Price | Size | A-Abdomen | B-Back Leg |
| $32 | X-Small | 9"-15" | 3"-6" |
| $35 | Small | 10"-16" | 3"-8" |
| $48 | Medium | 15"-21" | 6"-12" |
| $60 | Med Large | 20"-29" | 11"-15" |
| $68 | Large | 24"-31" | 14"-17" |
| $75 | X-Large | 31"-35" | 16"-19" |
A measures the circumference of the abdomen (or chest) directly in front of the back legs.
B measures the circumference of the leg at the point where it meets the body.
Designed for after-surgery, injury or age-related physical therapy.

The handler helps carry the animal's weight, allowing front or hind-leg exercise and strengthening with reduced weight stress.

Constructed of durable, washable nylon pack cloth with double-bar buckles adjusting, polypropylene webbing handles.

Full-body webbing reinforcement and is fleece-lined for extra stability and comfort.

The XL is designed to aid the giant breeds and should be used as a 2-person lift when needed.
SMALL - Up to 30 lbs (Lift Body 5-1/2" x 16") - $21
LARGE - 31-90 lbs. (Lift Body 8" x 27") - $27
X-LARGE w/PADDED HANDLES - 91-160 lbs. (Lift Body 14" x 36") - $40
CAUTION: Lifting is required with this product. Please use proper lifting techniques. Lift with your legs, arms at waist-height, keeping back straight and feet spread shoulder-width apart.

Call 425-785-4881 or